It's Time to Focus on Data Privacy and Compliance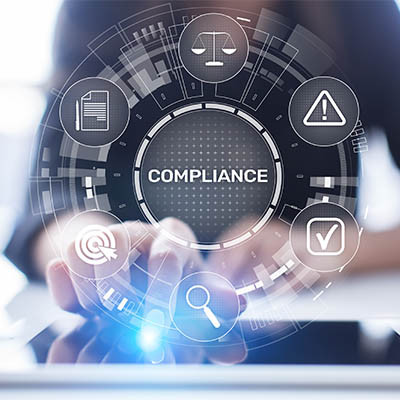 Most businesses have compliance regulations they need to meet. 2021 is becoming somewhat of a tipping point for some. Companies are dealing with the development of new data privacy laws that will surely add some responsibilities on top of already established regulations. This month, we thought we'd take a look at compliance and why it is important to stay on top of it.
Before we get into regulatory compliance, we should mention that compliance with company-wide regulations (that presumably you've set up for a reason) are not exempt when considering your business' compliance responsibilities. Understanding where your organization is in meeting both outside and inside compliance requirements can set you up for success, even as your business doesn't look the same way it did in the past.
Outside Compliance Considerations
When compliance regulations are considered, typically these are the qualifications that need to be met. They are traditionally ethics-based regulations set up by legislators to help govern fair enterprise. Today's business creates, collects, and uses data in new and exciting ways, and having to meet regulatory benchmarks becomes more and more crucial. Most of these regulations are governed by federal, state, and industry legislative bodies and organizations created to do that. If they are not met, it can cause some difficult problems for any business. These include fines, suspension of service, and more.
Inside Compliance Considerations
The regulations you set up for your own business obviously don't carry the risks inherent in meeting regulatory requirements, but presumably you've enacted these benchmarks and requirements to help manage and operate your business effectively, so meeting those standards is important.
Massive Push For Data Privacy
For some time now, consumers have been more cognizant of how their personal information can be used against them. That doesn't mean that many people have taken the steps to protect that data, but that is evolving. Typically, any regulations aimed at data protection have been made to keep organizations from taking advantage of stakeholders, but now, it seems, there is a fairly large section of people that are actively looking to help individuals protect their personal data. Unfortunately, many of the major technology companies don't seem to be among them.
The establishment of the General Data Protection Regulation (GDPR) by the European Union was a landmark day for individual data privacy. It held businesses accountable and gave individuals control over a lot of their personal data. Much of the same data was shared with impunity before the GDPR went into effect. Today, there are several data privacy laws on the books in the United States, with a federal data privacy law looking inevitable in the years to come.
Compliance Tips
Outside of the GDPR (which affects any business that does business with European companies) most of today's requirements have been in place for quite some time. Regulations like HIPAA and PCI DSS affect millions of businesses, so it is important to have a set of strategies in place to keep compliant. Here are a few tips:
Stay in Good Standing - You need a Certificate of Good Standing. Otherwise you can't legally do business in most states. This is a certification that is issued by your state and requires your business to be registered as a legal entity, be current on tax filings, and meet other benchmarks or be suspended from doing business in that state.
Be Aware of Any Laws that Govern Your Business - These days, the regulations and laws are always changing. Business in 2021 moves fast, so staying up on the latest regulations will help your business maintain good health and go a long way toward putting you in a position to maintain compliance.
Keep Your Contacts Updated - It's important to keep your business contacts list up to date. This strategy helps by having contacts on hand so that you can handle important issues that might arise.
Follow Best Practices - Complaint companies understand the best ways to stay that way. Typically, by following best practices, your business can maintain compliance more effectively.
If you need help staying compliant or understanding how to, give the IT professionals at EZ MSP a call today at (914) 595-2250.
By accepting you will be accessing a service provided by a third-party external to https://www.ezmsp.com/